Enjoy The Bull Market, A Tribute To Jim Murray, And More On Equifax
09 Oct 2017
This past week, a large number of stock market indexes continued to march to new price highs. We'll show you that in many ways, the market remains in a healthy uptrend. We should enjoy it while it lasts.
I've also included a column from long time Los Angeles Times sportswriter Jim Murray. When you read it, you'll know why. And finally, I've got some updated information on the Equifax data breach which we wrote about three weeks ago. What a mess that is, and a serious one at that.
Enjoy The Bull Market
Since the Friday before last November's election, the stock market has been going up, and up.  The S&P 500 Index rose 7.33% from the close on November 4, to year-end, and has continued up another 13.89% through October 6 (not counting dividends).  I don't profess to know the cause, and I won't say it's because of President Trump (although he might).  My opinion is that it is a combination of fundamentals and positive psychology.
Nevertheless, what has happened is a great lesson for those investors who insist on injecting their political views or their fears of what "might happen" into the investing process.  It is ultimately why we pay much more attention to what the market is actually doing, rather than what we "think" it should be doing.
As we've noted in the past, broad-based advances in stocks are much healthier than narrow ones.  A couple of months ago, it seemed that small and mid-cap stocks were beginning to falter, while large companies surged ahead.  That is typical behavior prior to the final peak.  Yet, since mid-August, almost all of that has reversed, and as of last week, virtually every major stock index made new highs, along with a key breadth indicator, the advance/decline line.
This is best illustrated by a series of charts, shown below, courtesy of Chief Investment Officer Doug Ramsey and the crew at the Leuthold Group.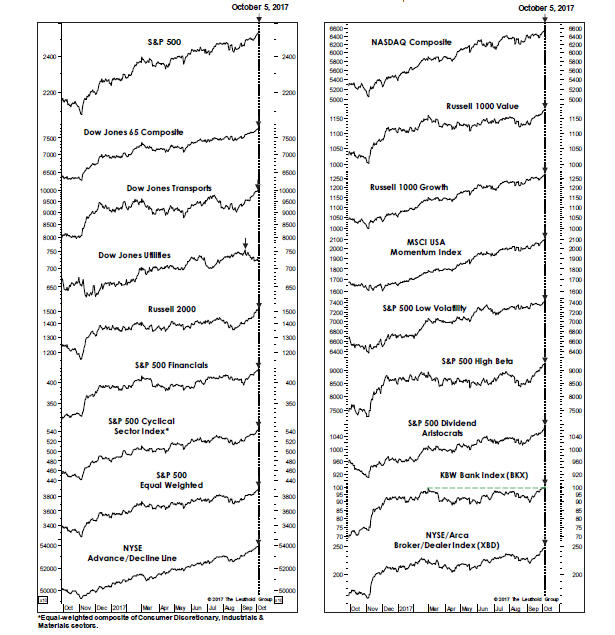 You can see that except for the Dow Jones Utilities Average, every index shown made a new high last week.  Large stocks (S&P 500), small stocks (Russell 2000), mid-cap stocks (not shown), the NASDAQ Composite (a heavy dose of technology) along with several others, including the NYSE Advance/Decline Line.
This suggests a few things.  First, the market is exhibiting strength that is not typical of an uptrend that is over 8 years old.  Second, these indicators suggest that breadth remains fully supportive of the market.  Given the history of prior market tops and the lack of any major divergences, the probabilities suggest higher prices in the months ahead, notwithstanding elevated valuations, and optimism.  So, enjoy the rising prices while they last.  Someday, we'll actually feel some headwinds.
Quick Update On Bond Yields
Just as someday stock prices will go down, someday bond yields will go up.  At present, though, the 10-year Treasury yield is still below where it began the year, though it has risen from 2.04% to 2.33% in the last several weeks.  The chart below, courtesy of Ned Davis Research, shows a downtrend line dating back to 1988.  The Fed is widely anticipated to raise rates again in December, which would increase the Fed Funds rate to 1.25%.  Meanwhile, it will take a 10-year yield at 2.70% to decisively break the downtrend shown below.  Investors should heed the lesson noted above about their opinions.  Let the market tell the story.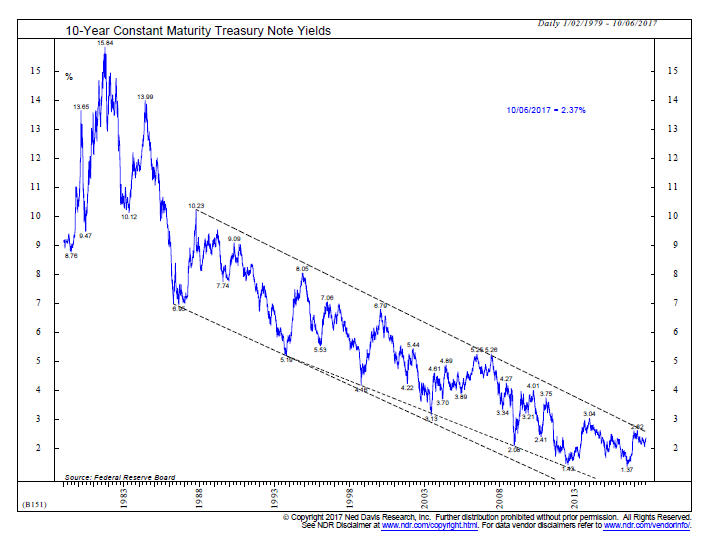 Jim Murray, Revisited
I recently completed a fascinating book by Joe Peta, a former Lehman Brothers trader.  It's called Trading Bases, and it's about baseball, gambling and Wall Street.  Peta is a self-proclaimed baseball nut (like many of us), and in one of his stories, he referenced a column by the late Jim Murray of the LA Times, calling it perhaps the greatest column ever written by a sportswriter.
That piqued my interest, because I'd not only read Jim Murray's work for over 20 years, I KNEW Jim Murray in my role as Assistant Director of Public Relations for the California Angels from 1979 to 1981.  Heck, I had dinner with Jim Murray a few times in the Angels' press box during that time period.
Needless to say, Jim was a gifted writer.  He won the NSSA's (National Sportscasters and Sportswriters Association) Sportswriter of the Year award 14 times, and was awarded a Pulitzer Prize for Commentary in 1990 for his 1989 columns.  The following column was re-published August 18, 1998, just a couple of days after Jim passed away, and was about Murray losing the sight in one of his eyes.  You do not have to be a baseball fan to understand and appreciate great writing.  Since we are in the middle of the baseball playoffs, though, I thought I'd share this gem.
If You're Expecting One-Liners, Wait, a Column
By Jim Murray
OK, bang the drum slowly, professor.  Muffle the cymbals and the laugh track.  You might say that Old Blue Eye is back.  But that's as funny as this is going to get.
I feel I owe my friends an explanation as to where I've been all these weeks.  Believe me, I would rather have been in a press box.
I lost an old friend the other day.  He was blue-eyed, impish, he cried a lot with me, saw a great many things with me.  I don't know why he left me.  Boredom, perhaps.
We read a lot of books together, we did a lot of crossword puzzles together, we saw films together.  He had a pretty exciting life.  He saw Babe Ruth hit a home run when we were both 12 years old.  He saw Willie Mays steal second base, he saw Maury Wills steal his 104th base.  He saw Rocky Marciano get up.  I thought he led a pretty good life.
One night a long time ago he saw this pretty girl who laughed a lot, played the piano and he couldn't look away from her.  Later he looked on as I married this pretty lady.
He saw her through 34 years.  He loved to see her laugh, he loved to see her happy.
You see, the friend I lost was my eye.  My good eye.  The other eye, the right one, we've been carrying for years.  We just let him tag along like Don Quixote's nag.  It's been a long time since he could read the number on a halfback or tell whether a ball was fair or foul or even which fighter was down.
So, one blue eye missing and the other misses a lot.
So my best friend left me, at least temporarily, in a twilight world where it's always 8 o'clock on a summer night.
He stole away like a thief in the night and he took a lot with him.  But not everything.  He left a lot of memories.  He couldn't take those with him.  He just took the future with him and the present.  He couldn't take the past.
I don't know why he had to go.  I thought we were pals.  I thought the things we did together we enjoyed doing together.  Sure, we cried together.  There were things to cry about.
But, it was a long, good relationship, a happy one.  It went all the way back to the days when we arranged all the marbles in a circle in the dirt in the lots in Connecticut.  We played one-old-cat baseball.  We saw curveballs together, trying to hit them or catch them.  We looked through a catcher's mask together.  We were partners in every sense of the word.
He recorded the happy moments, the miracle of children, the beauty of a Pacific sunset, snowcapped mountains, faces on Christmas morning.  He allowed me to hit fly balls to young sons in uniforms two sizes too large, to see a pretty daughter march in halftime parades.  He allowed me to see most of the major sports events of our time.  I suppose I should be grateful that he didn't drift away when I was 12 or 15  or 29 but stuck around over 50 years until we had a vault of memories.  Still, I'm only human.  I'd like to see again, if possible, Rocky Marciano with his nose bleeding, behind on points and the other guy coming.
I guess I would like to see Reggie Jackson with the count 3-and-2 and the series on the line, guessing fastball.  I guess I'd like to see Rod Carew with men on first and second and no place to put him, and the pitcher wishing he were standing in the rain someplace, reluctant to let go of the ball.
I'd like to see Stan Musial crouched around a curveball one more time.  I'd like to see Don Drysdale trying to not laugh as a young hitter came up there with both feet in the bucket.
I'd like to see Sandy Koufax just once more facing Willie Mays with a no-hitter on the line.  I'd like to see Maury Wills with a big lead against a pitcher with a good move.  I'd like to see Roberto Clemente with the ball and a guy trying to go from first to third.  I'd like to see Pete Rose sliding into home headfirst.
I'd like once more to see Henry Aaron standing there with that quiet bat, a study in deadliness.  I'd like to see Bob Gibson scowling at a hitter as if he had some nerve just to pick up a bat.  I'd like to see Elroy Hirsch going out for a long one from Bob Waterfield, Johnny Unitas in high-cuts picking apart a zone defense.  I'd like to see Casey Stengel walking to the mound on his gnarled old legs to take a pitcher out, beckoning his gnarled old finger behind his back.
I'd like to see Sugar Ray Robinson or Muhammad Ali giving a recital, a ballet, not a fight.  Also, to be sure, I'd like to see a sky full of stars, moonlight on the water, and yes, the tips of a royal flush peeking out as I fan out a poker hand, and yes, a straight two-foot putt.
Come to think of it, I'm lucky.  I saw all of those things.  I see them yet.
Today's Evidence And Current Investment Allocations
Predictably, with markets trending higher, there has been no change in our stance.  Seven of our 8 stock market risk models are on BUYs, so tactical equity allocations are around 85%.  We may be 100% invested within a few weeks as seasonal considerations turn bullish.  Our high yield bond model continues to eke out new highs.  Again, someday, all of this will change.
More On The Equifax Mess
Since we wrote about this massive data breach three weeks ago, more information has come to light.  First, Equifax has announced that they will be providing credit freezes for those that want them at no charge until January 2018.  However, both Experian and TransUnion are charging $10 to freeze your files with them.
The laws vary by state, and though in California the law states that if you are a victim of fraud, the credit freezes should be offered at no charge, it is unclear if Experian and TransUnion will do this if you simply tell them your data has been breached at Equifax.  I know that my own written request to Experian was returned because I did not enclose the $10 payment.
In addition, we'd like to apologize to any of you who followed our guidance and wrote a letter to TransUnion.  We found out that the address provided on the Equifax website to contact TransUnion was wrong.  It was an old address in Fullerton.  My own mail to TransUnion (and that of a few clients) was returned to me unopened.  And you thought Equifax couldn't screw up any more than they already had?  Think again.  I didn't think I'd have to fact check something so simple, but there you go.  The correct mailing address for placing a freeze on your credit with TransUnion is as follows:
TransUnion LLC Security Freeze
P.O. Box 2000
Chester, PA  19016
It has been three weeks, and I have yet to receive a written reply from Equifax.  For those of you comfortable going online, you can use the links below to freeze your credit on the web, but you will be charged $10 at both Experian and TransUnion.  If you prefer to write, feel free to contact us and we'll email you templates we've created for all three credit agencies, and modified the language to include payment for Experian and TransUnion.
Equifax: https://www.freeze.equifax.com/Freeze/jsp/SFF_PersonalIDInfo.jsp
Experian: https://www.experian.com/freeze/center.html
TransUnion: https://freeze.transunion.com/sf/securityFreeze/landingPage.jsp
Besides freezing your credit, there is one other process one should go about in order to protect yourself.  Since Social Security numbers have been stolen, there is no telling what a criminal could do with that information.  So, if you don't already have a personal account with the Social Security Administration, now is a good time to create one.  There is no charge, and it is a good idea anyway to keep track of your earnings record, since paper statements are slowly being phased out.  Even if you are retired and receiving benefits, it is still a good idea to create your own account, which would prevent a criminal from doing so.
To do this, go to www.ssa.gov.  At the home page, at the bottom left hand of the screen is an area called My Social Security.  When you click on that, it will take you to a page where you can sign in or create an account.  Just follow the instructions from there.  No doubt that data breaches are becoming all too common, so it's important to be diligent in this area.
Material Of A Less Serious Nature
Last week was Harry's birthday and he didn't feel very well.  Waking up that morning, Harry went downstairs for breakfast hoping his wife would be pleasant and say "Happy Birthday!" and possibly have a present for him.  As it turned out, she barely said good morning, let alone "Happy Birthday."  Harry thought. . . .well that's marriage for you, but the kids will remember.  The kids came into breakfast and didn't say a word.
So off went Harry to the office, feeling low and somewhat despondent.  As he walked into the office, his secretary, Jane, said, "Good morning, boss, and Happy Birthday!"  It felt a little better that at least someone had remembered.  Harry worked until one o'clock and then Jane knocked on the door and said, "You know, it's such a beautiful day outside, and it's your birthday, let's go out to lunch, just you and me."  "Thanks," said Harry, "that's the greatest thing I've heard all day."
They went to lunch.  But they didn't go where they normally would go.  Instead, they dined at a little place with a private table.  Each had two martinis and enjoyed the meal tremendously.  On the way back to the office, Jane said, "You know, we don't need to go back to the office, do we?"  Harry responded, "I guess not.  What do you have in mind?"  She said, "Let's go to my apartment."  After arriving at her apartment Jane turned to Harry and said, "Boss, if you don't mind, I'm going to step into the bedroom for a moment, I'll be right back."  "OK," Harry nervously replied.
She went into the bedroom and, after a couple of minutes, she came out carrying a huge birthday cake. . . . . .followed by Harry's wife, kids, and dozens of his friends and co-workers, all singing "Happy Birthday."
And there sat Harry……on the couch…..Naked.
As always, thanks for your continued trust and confidence in all of us at TABR.
Sincerely,

Bob Kargenian, CMT
President
TABR Capital Management, LLC ("TABR") is an SEC registered investment advisor with its principal place of business in the state of California.  TABR and its representatives are in compliance with the current notice filing and registration requirements imposed upon registered investment advisors by those states in which TABR maintains clients.  TABR may only transact business in those states in which it is notice filed, or qualifies for an exemption or exclusion from notice filing requirements.
This newsletter is limited to the dissemination of general information pertaining to our investment advisory/management services.  Any subsequent, direct communication by TABR with a prospective client shall be conducted by a representative that is either registered or qualifies for an exemption or exclusion from registration in the state where the prospective client resides.  For information pertaining to the registration status of TABR, please contact TABR or refer to the Investment Advisor Disclosure web site (www.adviserinfo.sec.gov).
The TABR Model Portfolios are allocated in a range of investments according to TABR's proprietary investment strategies. TABR's proprietary investment strategies are allocated amongst individual stocks, bonds, mutual funds, ETFs and other instruments with a view towards income and/or capital appreciation depending on the specific allocation employed by each Model Portfolio. TABR tracks the performance of each Model Portfolio in an actual account that is charged TABR's investment management fees in the exact manner as would an actual client account. Therefore the performance shown is net of TABR's investment management fees, and also reflect the deduction of transaction and custodial charges, if any.
Comparison of the TABR Model Portfolios to the Vanguard Total Stock Index Fund, the Vanguard Total International Stock Fund and the Vanguard Total Bond Index Fund is for illustrative purposes only and the volatility of the indices used for comparison may be materially different from the volatility of the TABR Model Portfolios due to varying degrees of diversification and/or other factors.
Past performance of the TABR Model Portfolios may not be indicative of future results and the performance of a specific individual client account may vary substantially from the composite results above in part because client accounts may be allocated among several portfolios. Different types of investments involve varying degrees of risk, and there can be no assurance that any specific investment will be profitable.
The TABR Dividend Strategy presented herein represents back-tested performance results. TABR did not offer the Dividend Strategy as an investment strategy for actual client accounts until September/October 2014. Back-tested performance results are provided solely for informational purposes and are not to be considered investment advice. These figures are hypothetical, prepared with the benefit of hindsight, and have inherent limitations as to their use and relevance. For example, they ignore certain factors such as trade timing, security liquidity, and the fact that economic and market conditions in the future may differ significantly from those in the past. Back-tested performance results reflect prices that are fully adjusted for dividends and other such distributions. The strategy may involve above average portfolio turnover which could negatively impact upon the net after-tax gain experienced by an individual client. Past performance is no indication or guarantee of future results and there can be no assurance the strategy will achieve results similar to those depicted herein.
For additional information about TABR, including fees and services, send for our disclosure statement as set forth on Form ADV from us using the contact information herein.  Please read the disclosure statement carefully before you invest or send money.
A list of all recommendations made by TABR within the immediately preceding one year is available upon request at no charge. The sample client experiences described herein are included for illustrative purposes and there can be no assurance that TABR will be able to achieve similar results in comparable situations. No portion of this writing is to be interpreted as a testimonial or endorsement of TABR's investment advisory services and it is not known whether the clients referenced approve of TABR or its services.