Graduation 2017, And Beware Of Cycles
01 Jun 2017
Thirty-six years ago this month, I graduated from Cal State Fullerton with a Bachelor's Degree in Sports Administration. The morning after graduation, I woke up and went back to work in my job as Assistant Director of Public Relations for the California Angels baseball club, where I'd already been employed full time for nearly two years. I was in the big leagues at the age of 21, my dream job.
Two weeks ago, I spent four days in New York City with my family, watching our son Adam graduate from New York University. He's in the big leagues too, trying to make a go of it in New York City.  He majored in Photography, with a minor in Business of Entertainment, Media & Technology.
Below is Adam after the ceremony at Radio City Music Hall for the NYU Tisch School of the Arts.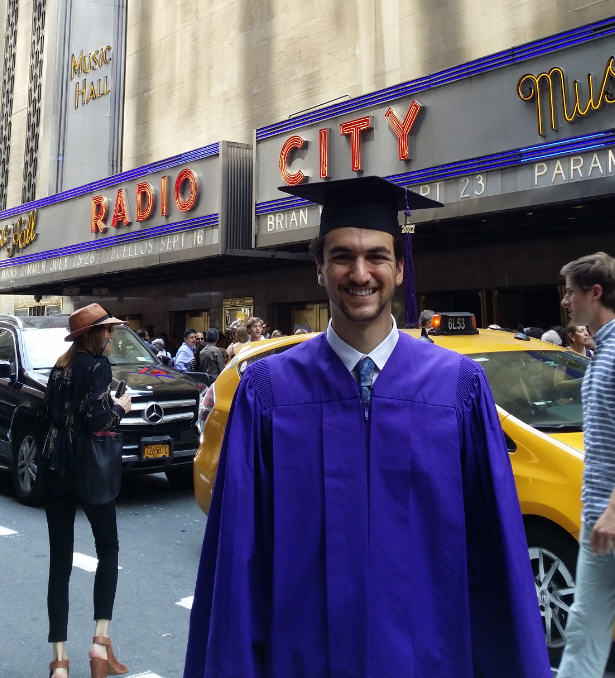 Here is the whole family, including grandparents John and Dot, after Wednesday's ceremony at Yankee Stadium.  There were about 35,000 people there and nearly 16,000 NYU graduates.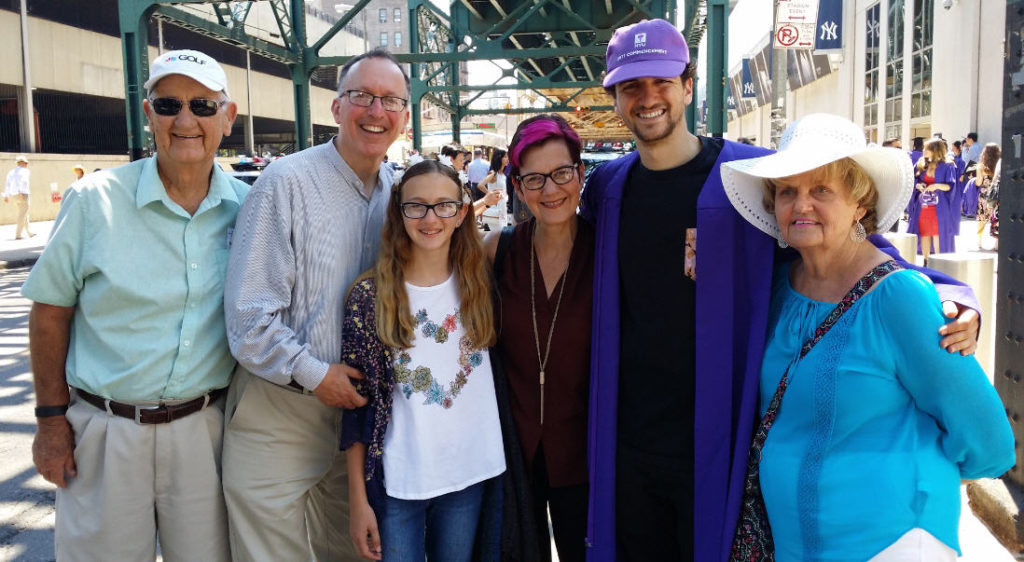 Finally, here's Adam with younger sister, Caroline, who just finished the 6th grade.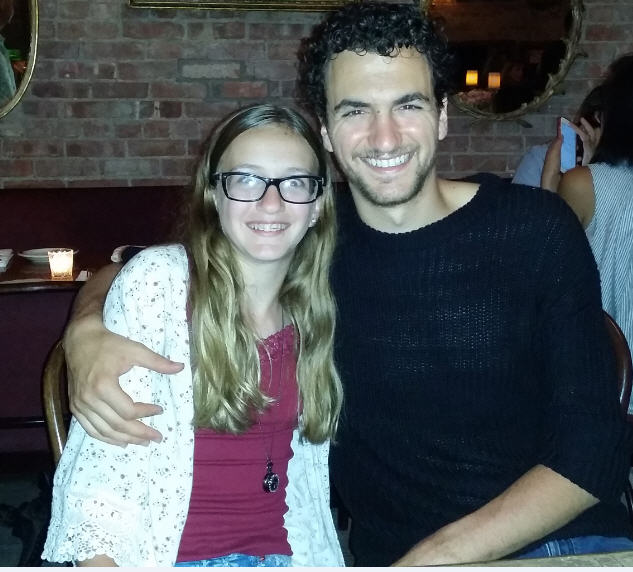 For those of you counting, I will be 60 this November, which also means I need to get to 69 to hopefully someday see Caroline graduate.  So, "retirement" isn't exactly a near term thought.  Plus, I was reminded last summer when meeting with a wonderful long time client who told me, "Bob, remember, no where in the entire Bible is the word retirement."
I think he meant that this means our work in serving others is never done.  But, I did remind him that baseball was quite prominent in the Bible.  Just look it up, in Genesis 1, Chapter 1.  It starts out, "In the BIG INNING."  Gotcha!
What To Say To A Graduate
Perhaps you have had a son or daughter or grandchild graduate recently as well.  Not only do parents and grandparents have those discussions about what to get their kids as a gift (I know, paying for college is a GIFT), but also and probably more importantly, what message might you want to convey to them as they are about to enter what many of us call "the real world?"
As I was pondering this area a few weeks ago, I came across a great article in one of the practice management services I subscribe to.  It was written by Art Sobczak, the President of Business By Phone Inc., and author of How to Sell More, in Less Time, With No Rejection.  The article was titled The Real-World Advice You Won't Hear at Any Commencement—But Should.
First, I liked the whole piece.  It was worldly, timely, and timeless.  But, since it ran four full pages, I'm only reproducing parts of it below.  All credit and thanks go to Art.
Congratulations Recent Graduate,
Welcome to the 2017 pledge class of "The Way Things Really Work" fraternity and sorority.  What you are about to experience may be downright shocking for some of you.
Here are some suggestions on making it through the hazing and beyond.  Should you choose to heed them, they will help you become more successful more quickly in the real world—if that's your goal.
You have spent the past four years or more focusing on trying to impress college professors in order to earn grades.  You will now need to impress people who have real control over your destiny:  prospects, clients, bosses, co-workers, boards and committees.  These might be old people whom you previously considered to be un-hip. Even the nerds who graduated just a year ahead of you might be in this group.  They all have something you don't:  real world experience.  Get used to it.  Be humble.
You will not be paid proportionate to your GPA, what school you went to, or if you have a graduate degree with letters behind your name.  The market does not care.  You will be paid in direct correlation to the value you provide other people and organizations.  Money always flows to value in a market economy.  Your economics professor might have missed that one amid all the charts and graphs and white-noise babble.
No job or work is beneath you, especially if you don't have a job.  What is beneath you is thinking you are owed something, or expecting someone else to take care of you.  In addition to trading time for money, you can learn something from every job, regardless how menial it might seem at first glance.
Volunteer to tackle any task that most others in any organization you become a part of. Become known as the "go-to" person that gets things done.
No one who is truly successful works nine-to-five.  Your days of regularly sleeping til noon and staying out late are over, if you plan to be anything other than average.  Easy ways to success exist only in spam emails.
Speaking of losing, even if you are really trying, you will not get what you want many, many times.  That's OK, and will be valuable if you learn from every experience.
The real world you are entering is not "fair" according to the definition of many of the kids you went to school with, whatever you may have discussed in some woo-woo philosophy class.  Whatever.  In this real world, breaks are not given, they are created. Opportunities to succeed are not handed out equally; they are earned with a combination of attitude, risk and massive action.
A perception of a person's I.Q. goes down a point every time they say "like," "ah," "um," "you guyses," and "dude."  It's like, not professional, and makes someone sound immature, ya know?  Join Toastmasters or take another speaking course.
It is not all about you anymore.  Be selfless, curious, and grateful. You will be surprised at how it comes back to you.
Emailed "thank you's" are not acceptable for most things worth thanking for.  Get a nice pen and your own stationery and lots of stamps.  Yes, some people still use regular mail.  The very successful people.
Your new social network is LinkedIn.  Become as much of an expert using it as you are with Twitter, YouTube, and any other place you waste time online.
For whatever you want, ask yourself, "Who can give this to me, what do they want and care about, and how and what can I first do for them?"
Even if your formal job title is not sales, become great at sales, as its skills and results are required and used by the most successful people in every area of life.  These skills include questioning, listening, recommending, negotiating, handling resistance, persuading, moving processes forward, having a great attitude, and more.
Become indispensable, irreplaceable, and in-demand through hard work, building expertise, and delivering value.  You likely know friends of your parents who lost their jobs because they were expendable.
Be obsessively interested in other people.  Ask questions.  Find out how you can help them.  Follow up and stay in touch.  Almost everything you will achieve will be the result of people you meet and form relationships with along the way.
Always ask for what you want.  In all areas of your life.  Don't wish, ask.  Few things will be outright given to you without you initiating it first.  This alone can make you millions of dollars, and help you become happier than you imagined.  Trust me on this one.
Most other people will not do what it takes to be wildly successful, and many would prefer that you don't either.  They will be jealous of your success and secretly hope you fail.  Sad, but true.  Distance yourself from them because they will pull you down.
Here's your graduate degree in communication.  Pay complete, undivided attention to every individual you communicate with.  If face-to-face, make eye contact.  Listen as if your life depended on it.  Don't interrupt.  Pause after you ask a question and after they answer.  Ask another related question.  Don't shift the topic to yourself.
And when you are in the presence of others, put the phone away and turn it off.  Please.  Paying attention to the phone instead of the person in front of you is the ultimate insult and makes you look like a self-absorbed fool.
Take personal responsibility for everything you do.  Never point a finger elsewhere.  "Victim" is synonymous with "loser" and "blamer."  Own it.  Put your name on it.  Act like you control your destiny, and you will realize that you actually do.
Smile more often than you don't.  You feel better, and others react to you more favorably.
Being five minutes early is on time.  Showing up right on time or later is late.  It shows a lack of respect for the other person or people.
Just as with products, people can be viewed as commodities, and therefore paid the lowest price, if that is how they allow themselves to be perceived.  Differentiate yourself.  Set yourself apart.  Be unique and memorable.  In the process you will not please everyone.  That's OK.  In fact, if you are not pissing off some people you are playing it too safe and vanilla.  Bonus advice:  What you do is more important than what you say about yourself.
Your body is like software, not hardware.  Like software, you can regularly update and keep it running optimally with proper diet and exercise.  Unlike hardware, you can't trade it in for a newer model.  Take care of the only one you'll ever have.
Don't wait for things to happen.  Make things happen.  Movement opens doors, creates opportunities, and gets results.  Take massive action.  Every day.
Welcome to the real world, newbies.  Some of you will be wildly successful, and others will fail miserably. Your choice.
Now go out and attack life.
Beware of Cycles
On May 1, we began the most unfavorable six-month seasonal period of the year for the stock market.   Since 1950, the entire gain for the market has taken place from November to April.  Which, conversely means, that from May through October, stocks have actually lost money, on average.  Thus, somebody, perhaps the late Yale Hirsch who discovered this pattern, coined the phrase "Sell in May and Go Away."
This has been happening for 67 years, so unlike other pieces of research thrown out there, this is statistically significant.  No one can offer why this works, only that it does.  However, I want to add one thing.  For some reason, this pattern did not work from 1926 to 1949.  What's different?  I don't know, and neither does anyone else.  Despite widespread knowledge of this pattern, it still works, on average, even if you look at the past 16 years.
As readers of this letter know, we don't forecast and think it is a waste of time.  But, it can be helpful to use outside indicators beyond the technicals to know the context of the market and the risk and probabilities.  In that regard, this is a good time to review the Dow Jones Cycle Composite chart for 2017 produced by Ned Davis Research.  This chart blends the one year seasonal cycle, the four year Presidential cycle and the 10 year decennial cycle into one chart, attempting to predict what the year will look like.  It is shown below.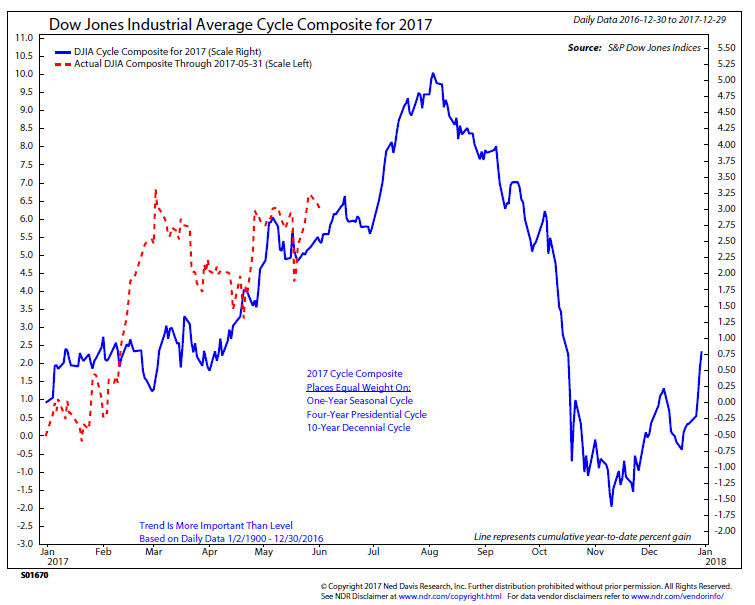 Keeping in mind that this method is not perfect either, it is interesting to note that so far, stocks have been mostly following the script.  This is all based on past price action.  There is no accounting for earnings, valuations, the political situation or what the Federal Reserve Board is doing.  If it is accurate, though, stocks should peak in July or August and then have a pretty decent decline into November.  It does not say anything about magnitude.
As you'll see below, right now the overall technical evidence is pretty positive.  We'll see if that changes in a couple of months.
Today's Evidence And Current Investment Allocations
In the last six weeks since our mid-April update, stock markets have continued to grind higher, led by international equities, up nearly 6% since April 13.  During the same period, the S&P 500 has made a new high, gaining 3.5%, followed by mid and small cap stocks, up 2.3% and 1.9%, respectively.
This relative strength weakness in mid and small cap stocks may be a forewarning of coming divergences that will eventually matter.  At the final peak, large company stocks tend to be the last ones standing, so this will bear watching in coming weeks, along with the action in financial stocks.
Overall, though, there's been little change in our positions.  Our high yield bond risk model remains on its January 3 BUY signal, and prices have been making new highs, right alongside stocks.  This is good.  Our tactical equity exposure is now at 75%, up from last month, as 6 of our 8 stock market risk models are in positive mode (note–we eliminated one model from our cache after much evaluation).
All in all, despite many indications of an over-valued stock market and too optimistic sentiment, we are positioned in a moderately positive stance, and expect prices to eventually move higher this summer before a final peak.  We'll keep dancing until the music stops.
With the knowledge that nothing works all the time, including the cycle chart above, there was an interesting tidbit in Barron's this week.  According to LPL Financial's Ryan Detrick, the S&P 500 had gained 7.9% through last Thursday, the 100th trading day of 2017.  What's the big deal?  He says that since 1950, the S&P 500 has never finished lower after gaining at least 7.5% during the first 100 trading days—its 23 for 23.  Furthermore, on 20 of those 23 occasions, the index continued to rise, with an average gain of 9% the remainder of the year.
Let me put it this way.  I'd love to see a 16% gain in the S&P 500 in December.  I would be totally shocked if it happened, but who knows?  I've been shocked before, which is why all we do is follow our process, and make changes when the evidence changes.
Shortening The Settlement Cycle
We want to give you a heads up to a coming change in the securities industry that will take place in September.
Currently, in the United States, the securities industry completes settlement for equities, corporate and municipal bonds, and unit investment trusts (UITs) on the third day after a trade is executed by sending payment for the trade to the seller and the securities to the buyer.  The settlement cycle is known as "trade date plus three days" or T + 3.
The financial services industry is shortening the settlement cycle to trade date plus two business days, and the first trade date planned for this environment is planned for September 5, 2017.
For reference, exchange-traded funds (ETFs) are considered equities, while mutual fund trades will continue to settle in just one day.
The vast majority of our clients do not need access to funds on such short notice, but at times they do, even with long term investment accounts.  Since when we raise funds for income accounts or other needs, we are selling both mutual funds and ETFs, after September, money will be available in two business days instead of three.
What happens if you need money that day, or the next day?  At times, we hold a certain amount of cash in money market funds, which is strictly determined by our stock market risk models.  In those instances, if there was an emergency and we had enough cash on hand, funds could be transferred or wired that same day or the next day.  What happens if there isn't enough cash?  Well, then you have to simply wait.  Yes, it happens.  You could be SOL (the explanation is easily found in a Google search!). But remember, that could be prevented with PPPPP.  Prior Planning Prevents Poor Performance.
Material Of A Less Serious Nature
This letter was sent to the Principal's office after the school had sponsored a luncheon for senior citizens.  An elderly lady received a new radio at the lunch as a door prize and was writing to say thank you.
Dear Kean Elementary:
God bless you for the beautiful radio I won at your recent senior citizens luncheon.  I am 84 years old and live at the Sprenger Home for the aged.  All of my family has passed away.  I am all alone now and it's nice to know that someone is thinking of me. God bless you for your kindness to an old forgotten lady.  My roommate is 95 and has always had her own radio, but before I received one, she would never let me listen to hers, even when she was napping.
The other day her radio fell off the nightstand and broke into a lot of pieces.  It was awful and she was in tears.  Her distress over the broken radio touched me and I knew this was God's way of answering my prayers.  She asked if she could listen to mine, and I told her to kiss my ass.
Thank you for that opportunity.
Sincerely,
Agnes
As always, thanks for your continued trust and confidence in us.
Sincerely,

Bob Kargenian, CMT
President
TABR Capital Management, LLC ("TABR") is an SEC registered investment advisor with its principal place of business in the state of California.  TABR and its representatives are in compliance with the current notice filing and registration requirements imposed upon registered investment advisors by those states in which TABR maintains clients.  TABR may only transact business in those states in which it is notice filed, or qualifies for an exemption or exclusion from notice filing requirements.
This newsletter is limited to the dissemination of general information pertaining to our investment advisory/management services.  Any subsequent, direct communication by TABR with a prospective client shall be conducted by a representative that is either registered or qualifies for an exemption or exclusion from registration in the state where the prospective client resides.  For information pertaining to the registration status of TABR, please contact TABR or refer to the Investment Advisor Disclosure web site (www.adviserinfo.sec.gov).
The TABR Model Portfolios are allocated in a range of investments according to TABR's proprietary investment strategies. TABR's proprietary investment strategies are allocated amongst individual stocks, bonds, mutual funds, ETFs and other instruments with a view towards income and/or capital appreciation depending on the specific allocation employed by each Model Portfolio. TABR tracks the performance of each Model Portfolio in an actual account that is charged TABR's investment management fees in the exact manner as would an actual client account. Therefore the performance shown is net of TABR's investment management fees, and also reflect the deduction of transaction and custodial charges, if any.
Comparison of the TABR Model Portfolios to the Vanguard Total Stock Index Fund, the Vanguard Total International Stock Fund and the Vanguard Total Bond Index Fund is for illustrative purposes only and the volatility of the indices used for comparison may be materially different from the volatility of the TABR Model Portfolios due to varying degrees of diversification and/or other factors.
Past performance of the TABR Model Portfolios may not be indicative of future results and the performance of a specific individual client account may vary substantially from the composite results above in part because client accounts may be allocated among several portfolios. Different types of investments involve varying degrees of risk, and there can be no assurance that any specific investment will be profitable.
The TABR Dividend Strategy presented herein represents back-tested performance results. TABR did not offer the Dividend Strategy as an investment strategy for actual client accounts until September/October 2014. Back-tested performance results are provided solely for informational purposes and are not to be considered investment advice. These figures are hypothetical, prepared with the benefit of hindsight, and have inherent limitations as to their use and relevance. For example, they ignore certain factors such as trade timing, security liquidity, and the fact that economic and market conditions in the future may differ significantly from those in the past. Back-tested performance results reflect prices that are fully adjusted for dividends and other such distributions. The strategy may involve above average portfolio turnover which could negatively impact upon the net after-tax gain experienced by an individual client. Past performance is no indication or guarantee of future results and there can be no assurance the strategy will achieve results similar to those depicted herein.
For additional information about TABR, including fees and services, send for our disclosure statement as set forth on Form ADV from us using the contact information herein.  Please read the disclosure statement carefully before you invest or send money.
A list of all recommendations made by TABR within the immediately preceding one year is available upon request at no charge. The sample client experiences described herein are included for illustrative purposes and there can be no assurance that TABR will be able to achieve similar results in comparable situations. No portion of this writing is to be interpreted as a testimonial or endorsement of TABR's investment advisory services and it is not known whether the clients referenced approve of TABR or its services.